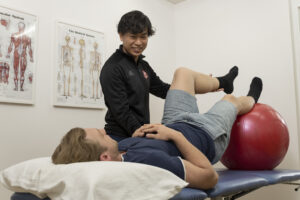 At Tokyo Medical and Surgical Clinic, we offer a comprehensive physiotherapy service in association with Club 360 physiotherapy, with convenient in-clinic consultations to support our patient's needs.
Exercise Programs for Weight Loss
Increasing metabolic activity through regular exercise plays an important role in accelerating and maintaining weight loss. However, finding the right exercise program can be difficult. This is particularly true for patients with chronic injuries or joint pain, which can limit participation in some forms of exercise.
Club 360's physiotherapists have extensive experience in creating personalized exercise plans. Through a comprehensive assessment of patient's needs and regular support, our physiotherapists can help our patients meet their weight loss goals.
Service Availability
Physiotherapists are available at our clinic on Tuesdays, Thursdays and Saturdays.
Initial assessment (45 minutes) – 15,400 JPY
Ongoing consultations (30 minutes) –13,200 JPY
How to book
To arrange a consultation, please call our reception on the number below: