Our resident specialist provides care for a range of gastrointestinal problems, as well as routine screening procedures. She performs endoscopies (including gastroscopy and colonoscopy) on site.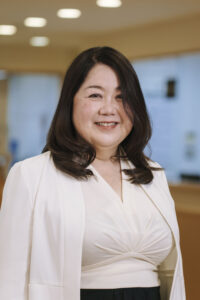 Shina Horiuchi, MD, PhD
Graduated and received her doctorate from Sapporo Medical University. After ten years as a practicing physician in hospitals in Japan, she worked as a Research Associate (gastrointestinal cancers) at Sanford Burnham Prebys Medical Discovery Institute in San Diego, California. She received certification from the ECFMG (Educational Commission for Foreign Medical Graduates) in 2008 and since returning to Japan, has provided bilingual services as a gastroenterologist to patients from various countries in Tokyo. She has a subspecialist interest in endoscopy, having performed over 20,000 gastroscopies as well as having trained in colonoscopy. Fluent in Japanese and English, she has authored several white papers in her field and translated two books.