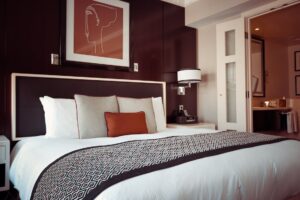 Service Overview
We understand that illness can come at the most inconvenient times, and many people travelling to Tokyo have a need for urgent medical care.
As Tokyo's premier international clinic, we offer a wide range of consultation services to travellers. For the ultimate in convenience, one of our experienced international General Practitioners can visit travellers in their hotel room, with a wide range of rapid testing and medications available to treat common conditions.
Service Operating Hours
Available 365 days per year
Hotel visits from 9am to 9pm (subject to availability)
Clinic is also open for in-clinic consultations from on weekdays and Saturdays
Consultation Fees
Hotel Visit – 110,000 yen (includes tax, phone triage, transport to hotel, prescriptions, and medical certificates as needed)
Please note that additional fees apply for tests performed and medication dispensed. All bills must be settled on the day of consultation via cash or credit card, and payment via GOP is not available.
Services Offered
Care for adults, children and infants
Acute illness
Injury and wound management
Medication prescriptions
Sexual health and emergency contraception
How to book
To arrange a consultation, please call our dedicated Hotel Visit line on the number below:
050-5527-1412
Please note that this service is not intended for severe illness or life-threatening emergencies. For these situations, please arrange an ambulance by calling 119.
For those who do not require a hotel visit, out of hours urgent consultations are also available at the clinic or remotely. See here for more information on these services.